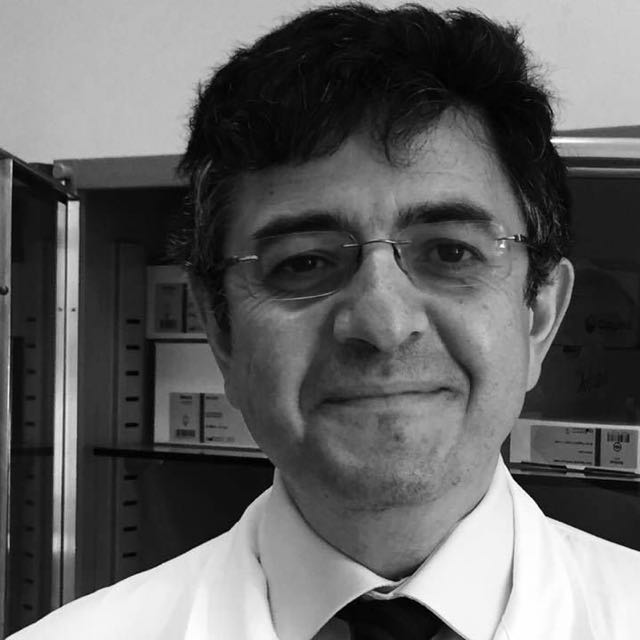 Dr. Omid Sedigh
---
Urologist – Andrologist
Prof Ac, to Humanitas University 
Education and qualifications
OMID SEDIGH, M.D.
Chief Dept.Urology and Andrology Reconstruction
SR.Consultant Urologist
Adjunct professor Humanitas University
Humanitas Gradenigo Hospital
Torino- ITALIA
born in Tehran (Iran) on 01.09.1967.
He graduated in Razy Scientific High school of Tehran in July 1985 and graduated in Degree of Medicine & Surgery at the University of Turin in the academic year 1993/1994.
The same university in the academic year 1998/1999, he Specialized in Urology and then after 3 years had his Fellowship & University Master's Degree in Reconstructive Andrology and in 2012 Fellowship and University Master's Degree in Prostatic Oncology in 2017.
Full specialist in Surgical Urology in all European Community, Switzerland & United kingdom (U.K-G.M.C Number 7046613).
Iranian Medical Council
Qatari Medical Council

Positions
.Chief of Dept. Urology and Reconstructive Andrology
Gradenigo Humanitas University Center of Torino
.Adjunct Prof . Humanitas University- Andrology Branch Torino
.Italian National University eligibility for Associate professor in Urology (Miur 03.2023)
• Senior. Consultant Urologist at Molinette University Hospital , Referal Center of Torino- Piemonte
• Coordinator – kidney transplant in Urology dept and Eligibility for Kidney transplantation and organ harvesting-Active part of the regional Team
• Coordinator Oncological team in penile Cancers e Inguinal Linfadenectomies
• Chairman Scientific Committee of APSARUS: Asian Pacific Society of Andrology Reconstructive Urology Surgeons
• Scientific Committee of ESSM– European Society for Sexual Medicine
• Active part of Andrology Team at Molinette Hospital in Turin
• Adjunct Professor at the University of Turin studies – SCD Urology – Master specialist in Surgical Andrology
• Adjunct Professor at the Univeristy of Turin- Residency School of Nephrologhy
• Adjunct professor TUMS- Tehran University in medical Sciences
• Editorial Board of Journal of Andrological sciences – Official Journal of Italian society of Andrology

Had Previlage, for long time to Work/ assist/operate together with Most Masters and experts of Urology and Oncology , in Italy : My kind Directors
pr. Ugo Ferrando dal 1993 al 12.2008
Pr. Dario Fontana dal 01.2009 al 11.2012
Pr. Bruno Frea dal 11.2012 – 11.2016
Pr.Paolo Gontero 11.2016
From 1992 to 1994, visitor, hearing care- in Dept. of Nefrourology at -Molinette of Torino.
From 1994-1999 Residency in Surgical Urology- at the Department of Nefrourologia-Univerisity of Torino.
Urology and reconstructive Andrology, full-time Assistant-Attend (38 hours- week)
at the Department of Urology Nefrourologia—Molinette Hospital of Turin from 2000-2007- Regional referal center .

During this period :
• carries out activities in a permanent ward and operating room (Routine Urology)
• carries out research and Andrologist and Urethral Surgeon
• participates as a first or second trader of surgical emergencies in the ER, for specific andrological and common Urological procedures. collaborate actively, both surgical and clinical, with S. Lazzaro dermatological referral center Hospital of Torino, for penile cancer treatments .
• In addition to routine urological guards working the emergency room, he was part of team activities and ESWL of 'urological endoscopy.
From 2000 to 2008, Dr.. Sedigh has organized and managed as a first-aid and then as manager,(the last 2 years) the service of surgical Andrology & urethral surgery of the SC 3 – Molinette.
Had Opportunity more times,to assist/operate together and had direct collaborations with most international experts
Reconstructive and urethral surgeons.
Pr. SJ.Hosseinee – Tehran & Torino.
Pr. E.Palminteri- Arezzo , Torino & Doha
Pr. S. Kulkarni in Torino,
Prof Tony Mundy Tehran and Torino
Pr. A.Alansari e coll. e Il Pr.A.Shamsodini presso Hamad Medical Coorporation di Doha-Qatar in Torino & Tehran.
Ariticial Urinary Sfincters Surgeons
Pr.Tony Mundy in Tehran and Torino
R.Olianas(Luneburg-germany) in Torino
Dr. Matteo Paradiso Torino
Penile Prosthesis and Andrological procedures
Prof. SK Wilson (USA), Pr. D. Ralph (London-UK) , Pr. Sava.Peyrovic(Belgrade), pr.R.Shabsy (Newyork-USA), pr.R.), prof. E.Austoni (Milano), dr .M. Paradiso (Torino) e Pr. Luigi Rolle (Torino)
Laparoscopic Urologists
Prof. Fornara- Halle- Germany
Prof. Paolo Gontero
Special skills and good experience
Treatment of erectile dysfunction and Peyronie's disease ( PD )
Penile Prosthesis Implantation of semi rigid and hydraulic penile prosthesis both Coloplast & AMS devices. Corporoplasties/Phalloplastie's and substitution with biomaterials and NESBIT procedure.. (conservative therapy for PD and Congenital Angulation).
Treatment of Male incontinency after trauma and radical procedures
Inflatable artificial sphincters, specially : AMS-800 for Male Incontinence
Reconstructive and Oncological Surgery of penile cancer
Uretroglanduloplastiy with the urethra in penile cancers after Radical Glansulectomy
sentinel lymph nodes Biopsies and deep inguinal lymphadenectomy
Surgical Treatment's of Anterior and Posterior urethral stenosis
Endoscopic urethrotomy and Laser treatments
Experienced in Anterior and in posterior Urethroplastyes with the buccal mucosa graft and Post Trauma
Continues collaboration with prof : Hosseinee(Tehran) and prof. palminteri (Arezzo).
Infertility and Miniinvasive Varicocel surgery
Micro and Macrotese, Microsurgical varicocelectomy antegrade sclerotherapy (Tauber) of Varicocele
Oncology surgery's for all Urological Cancers(prostate, Renal and Bladder..)
Radical perineal prostatectomies / retropubic urethra and rear access, endoscopic oncological surgery of the bladder, ureter and renale.
Minimally invasive surgery of prostate hyperplasia
Bipolar endoscopic surgery, Laser(Thullio, Green 180 W ) and minimally invasive for prostate BPH
Uro-Andrology Diagnostics
Eco-color-power-Dupplex penile and scrotal. Transrectal ultrasound prostate biopsy with Eco-Drive Target.
EndoUrology and shock Wave treatments of the high and low urinary tract stones and cancers.
Extracorporeal shock wave lithotripsy for the treatment of kidney stones And percutaneous endoscopic laser surgery for the treatment of reno-ureteral calculi.
Active Regional member of Kidney Transplantation and explantation
Member of the 'Italian Association of Urology (SIU), European Society of Urology (EAU), Italian Society of Andrology (SIA), the European Society of Sexual Medicine (ESSM), Italian Society Male Genital Surgery (SICGEM), Society Urologists Piemontese (AUP), and Iranian Society of Urology (IUA). Author of several publications in the field of urology and andrology at the national and international levels. Invited Surgeon and Invited speaker in several Italian and International Conferences